History
Harbinger is the longest running heroic team in the guild. They started raiding at the beginning of Legion and have successfully met their goal of full-clearing heroic difficulty every raid tier (including mini raids). 
For a team that's been raiding for such a long time, you wouldn't expect to find many original members on the roster, but Harbinger still has several: Cosmoso, Darayah, Erementha, Fivelo, Geyigi, and Tahldar.
That's 10 AotCs, 6 original members, and 4 years of raiding, all spanning 2 expansions! Add in a few Mythic Antorus boss kills for fun, a constant reminder that you can in fact put a healer in the pod on High Command, and it all adds up to one solid raid team.
Progression Achievements
Legion: Emerald Nightmare 7/7H, Trial of Valor 3/3H, Nighthold 10/10H, Tomb of Sargeras 9/9H, Antorus 12/12H
BFA: Uldir 8/8H, Battle of Dazar'alor 9/9H, Crucible of Storms 2/2H, Eternal Palace 8/8H, Ny'alotha 12/12H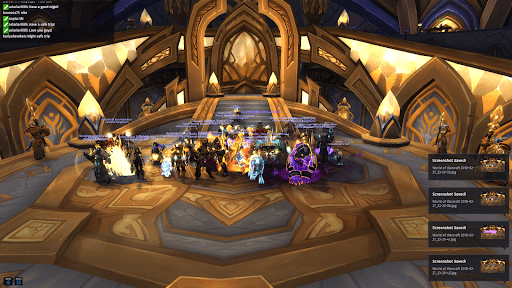 AotC Antorus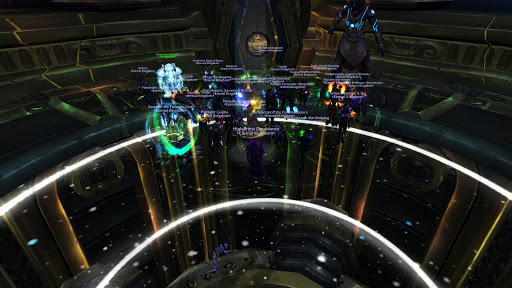 AotC Ny'alotha
More Than Just Progression
Harbinger enjoys taking a break from clearing heroic to engage in other fun activities. 
They've killed Mythic Jaina for the Glacial Tidestorm mount. They take trips down memory lane with Timewalking Raids, including the 15 year Anniversary Raid and they have completed every single meta raiding achievement in Legion and BFA as a team.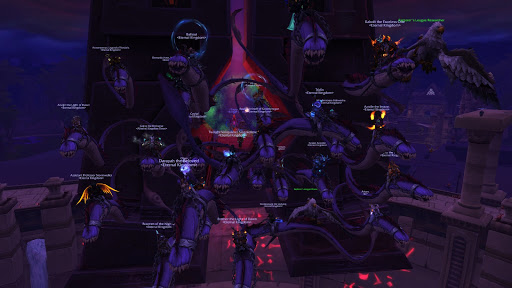 Glory of the Ny'alotha Raider
Harbinger also enjoys mythic plus. They have a team for every stream-a-thon and most of their members have earned Keystone Master while grouped with teammates.
When asked about the team, this is what some of the members had to say:
As one of the newest members of H team and someone who didn't know anyone before coming here, I don't have many fun stories yet. But i will say it was amazing to be welcomed so fast into the team, feels like a big family of nerds and i love it. I have made close friendships here in such a short time and that speaks volumes as to how good and friendly this team is especially with a large raid size like we are. It's easy to get lost in a big raid but here everyone has their special role. It's been wonderful to be a part of this H team family. I will say however when Cos was on his priest it was always fun to keep a tally of how many times he'd life grip the wrong person.  ~ Braonin
Well, the fact that roughly 3 years passed since the Nighthold raid came out and I joined the team after guild hopping looking for a Raid team to join, speaks a lot. The first thing about coming back to WoW in Legion after taking a 8 year break from the game was joining a raid team that I would stay with for multiple years. You guys helped me spark my love for WoW again, the raid team has made me excited for every Tuesday night to raid, to talk and accomplish raids that me 3 years ago wouldn't think of doing other than maybe LFR. We've had fun times and even now with this whole global crisis we are in Tuesday night shines bright through the darkness and brings a smile to my face ~Laki
I've been on a few different EK teams and also spent a while in Endless. Harbinger is by far my favorite team I've raided with. We get things done and there is no drama. I straight up would have quit playing by now if it wasn't for all of you.  So that's a thing and I thank you all. Harbinger good. 10/10 would bang. ~Primordial
Harbinger's goal going into Shadowlands is to continue to push Heroic Progression raiding while maintaining a full roster of close knit and friendly raiders in a fun and engaging environment!
If you are interested in learning more about this team have questions about joining, contact Cosmoso (Discord: Cosmoso#3927 / Btag: Cosmoso#1463). Harbinger raids Tuesday 6:00-9:00 PM PST.