[AS] Ascension

Quick Information
Monday & Thursday 8-11PM Eastern Time (Wednesday night optional)

Goal: Relaxed but progression minded mythic raiding
Required Addons:
Exorsus Raid Tools
BigWigs/DBM
Greenwall
RCLootCouncil
WeakAuras 2
Team Vision
Ascension will be a home to raiders who want to enjoy a casual mythic raiding group that is fun, positive, and all-inclusive, and spends the time efficiently during the six hours of raiding per week, in order to progress into Mythic raiding content with raiders who are new to Mythic content alongside seasoned veterans.
Team Mission
Ascension will progress through mythic content at an enjoyable and fun pace by members committing to working together, being efficient, and smart with the time in order to create a positive atmosphere that is enjoyable for all.
Expectations
Attendance
We expect 85% attendance or better. As long as the leadership is made aware of the situation, we understand that real life happens. Any absences must be posted in the Ascension Discord channel. Not doing so as a trial could be grounds for immediate termination of your trial. Not doing so as a core raider could be grounds for removal from the group.
Raid Atmosphere
Ascension is a relaxed raiding environment focused on clearing as much content as possible in the short amount of time we have together. That being said, we require raiders to research fights, come to raid with enchanted and gemmed gear, and consumables appropriate for the content (flasks and appropriate potions and food). Progression content warrants top tier consumables, while lower tier food and potions may be used for easier farm content.
Players should be looking to continuously improve their play by using SimulationCraft when appropriate, theorycrafting with peers, and staying up to date with their class blogs and discord servers.
Communication
The communication between raid members and raid officers is critical to the success of our group. We want to hear all raiders' constructive opinions through the correct channels. This needs to be done on the Ascension team forums, in Discord via Ascension chat or private messages to leadership, or in an in-game whisper to leadership.
Tactful and thoughtful communication will always lead to a positive outcome for the raid group as a whole, and we welcome this at all times. Negative, hypercritical, offensive or damaging communication is not welcome, and will only detract us from reaching the vision of our group.
Leadership
Team leadership will come with a strategy and goals for the night. The goals and needs of the raid will always be placed above our own. Our communication will be positive and constructive with our raid group. We will work with Proudmoore and Kingdom Gaming's larger community in order to continually improve Ascension and its standing within those communities.
A Word From Leadership
Our main focus is using our time wisely as it is limited, while also having fun and slaying some bosses, pushing progression, and moving forward as a group! We understand that life happens and can accommodate so long as we see effort put forth, and see that you are trying your best to keep up! If you have any ideas that you feel can help us, I'm always willing to listen and chat and would love to hear what you have to say! All I ask is we keep drama low, fun high, and push our hardest with the time we do have!
-Deathope/Intention
Ascension Team Lead
All streams are currently offline.
[I] Immortal
Quick Information
Mythic progression – 9 Hours/Week
Tue/Wed/Thu 6:30pm-9:30pm PST
Goal: Mythic Cutting Edge
Loot: Council
Required Addons:
Angry Assignments
DBM/BigWigs
Weak Auras
Exorsus Raid tools
Greenwall
Immortal's Community:
We are a collaborative group of players committed to challenging ourselves and supporting each other in the interest of the team's long-term performance. As a member of the team you can expect a positive, resilient atmosphere, precise feedback, fight preparation, insight and resources into how to improve the many facets of your game, and a team to support you while we enjoy the process of individual and team progression.
All team members are expected to hold the guild pillars of Professionalism, Progression, and Collaboration in high regard and to exemplify them in the community at large. In addition, we expect each member to contribute to the welfare of the team in ways that extend beyond simply showing up and performing adequately. Whether it be in camaraderie and friendship, warcraftlogs expertise, weak aura creation, putting knowledge of spec/class to good use, practicing and streamlining performance, streaming, farming mats, and so many other methods, the responsibility of team growth is necessarily shared and our raiders will strive to accomplish excellence themselves while empowering the process in others.
Our goal in BFA is to become a steadily improving cutting-edge team.

[P] Pantheon
Quick Information
Mythic Team – 9 hrs/week
Tue/Wed/Thur 6:30pm-9:30pm PST
Goal – Transition from Mythic Progression to Cutting Edge
Past Tiers – 4/9 M ToS, 9/11 M ABT, 6/8M Uldir
Required Addons:
Greenwall
BigWigs/DBM
Weak Auras
Exorsus Raid Tools
RC Lootcouncil
 Expectations:
Know Your Class – This means knowing your rotation, which talents are best for which fights, what utilities you bring to the table, and how to use your abilities effectively. This includes but is not limited to: Immunes, Stuns/Interrupts/Slows, Movement Buffs, Battle Res, Raid CDs, Taunts, etc.
Know Your Gear – Everyone should know their stat priorities and which gear pieces would benefit them the most for which fights. Gear should also be enchanted appropriately and have gems if applicable.
Know the Raid – There are a ton of videos and guides online. It takes a few pulls for everyone to learn the fight, but basics should be known well ahead of coming into raid.
Be Dependable – When you sign up for a team, you are promising 19 other people that you will be there on time, the whole time, and ready to go. We understand sometimes you may need to post out for the night, but give as much warning as possible so we can find a replacement for the session. If you find yourself unable to make raid on a regular basis, talk to leadership so we can discuss options.
Be Prepared – The raid team does assist in providing some consumables (when able), but you are also expected to bring your own to raid. Don't forget your food, flasks, pots, runes, tomes, bonus rolls, or anything else you might need.
Be Positive – When the night is going south, it's easy for tempers to sneak up on people. Take constructive criticism and use it to learn and grow. Help your fellow teammates to improve where needed. No one here is perfect so check your ego at the door and DO NOT let your temper get the better of you.
Let's have some fun and kill some bosses!
Alisondra (AlyssHart#1101) – Team Lead

[S] Sellswords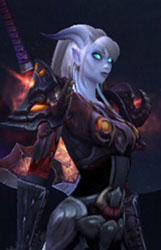 Mythic Progression – 9 hrs/week
Wed/Thur/Mon 8pm-11pm PST
Goal: Mythic Cutting Edge
Cutting Edge since HFC
Loot: Loot Council tradeable loot
Team Lead- Hantevirus
btag – hantevirus#1921
discord – hantevirus#8346
About You:
We expect minimum 90% attendance, a well honed sense of personal responsibility, good mechanics, decent throughput, team focused, with good emotional control (no rageaholics, please)   We're looking for raiders comfortable in a diverse community, with good communication skills and a solid sense of fun.  Oh and elitism is boring.   You should have experience in mythic content, know how to keep up with your class, and when it comes time to preparing for a new boss, "yolo" shouldn't be part of your plan.
About Us:
Sellswords began in Black Rock Foundry, and has a solid record of progression and achievement, getting cutting edge every tier since HFC.  Our goal is efficient raiding, with a congenial professional raid environment.   We prefer to raid smart instead of raiding more and we're committed to the guild's ethics of collaboration, professionalism and progression.
Kill Shots from Previous Tiers