Gravit[Y]
Team Lead
– Rysanagi
Overview
Mythic Team

Schedule: Tues/Wed/Thurs 5:30-8:30PM PST 

Goal: Mythic Cutting Edge

Loot: Modified Loot Council

Team Lead: Rysanagi
Required Addons:
Greenwall
BigWigs/DBM
Weak Auras
Exorsus Raid Tools
RC Loot Council
Our Past:
Gravity was established on Medivh in MoP during Siege of Orgrimmar and quickly achieved CE. The strain of trying to remain a CE guild on a dying realm led to severe burnout, and we decided to rebuild on Proudmoore after reaching 3/9M in BoD. You can see our past progression here.
Our Present:
We are a group of core raiders who realize that while highly competent teams can be found with relative ease, a team you can call home is a far rarer beast. Once bosses and tiers are long dead and gone, what's actually left are memories, memes, and friendships. We are committed to rebuilding our team toward CE while continuing to value community. After coordinating the team realm transfer in 7 days from start to finish, we resumed raiding less than 2 days later and immediately reachieved AotC and 2/9M despite significant problems with Blizzard's authentication servers and a power outage. We subsequently fought off various sabotage attempts by Blizzard including, but not limited to, blown fuses, computer meltdowns, dogs ripping out ethernet cables, back injuries, and retirement to re-kill Grong, and banded together to achieve our rebuild goal of killing the boss that'd killed us on our old realm, Opulence. After much blood, sweat, and tears (while still having fun), we fended off COVID-19 and wildfires to re-achieve CE status in Ny'alotha. For Shadowlands, we will now pursue reachieving US 500 while continuing to invest in team members and have fun playing together.
What to Expect:
Supportive and collaborative team atmosphere (e.g., group team log review sessions)

Open discussion of team issues and equal treatment of individual concerns

Commitment to progression and individual/team performance while not taking ourselves too seriously

Team M+ support

Every raid tier generates a team bingo card based on memes of ourselves (see examples below)

Traumatic progression generates a meme or comic for therapy purposes (see below for example)

Inside jokes no one remembers the origins of
Gravity May Be a Good Fit for You if:
Your team fell apart and you hate apping around to teams and realm hopping because you don't know if you can call it a home even if their progression looks awesome.

You are a returning player who are behind in gear but want to get back in the game as part of a team.

You want to become or grow as a mythic progression raider and clear cutting edge raid content, but you aren't sure how to analyze logs and identify specific areas for improvement.

You want to win as a team and look to uplift and improve your fellow raiders.

You felt burned by teams seemingly looking at parses only and did not understand how progression roster decisions were being made.

You want to achieve CE, but you don't want it at the cost of a cutthroat stressful atmosphere.

You appreciate sharp humor and wit, even directed at yourself, and can give as good as you get.
Gravity Sanctum of Domination Bingo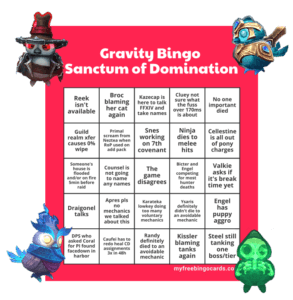 Gravity Ny'alotha Bingo, Anniversary Edition